Using our Gulf Fishing Maps - What comes with a purchase?
What's it come with, exactly? – With any of our Gulf Fishing Spots Maps for Alabama, Mississippi or Louisiana, you will receive the following package via email, ready to load-import to your GPS or open with your mobile devices. For over 10 years, we've offered this format in (9) coastal states as the original and only company working with local guides to bring you these fishing spots for one of the best fishing maps available. (Sample images and all info listed below)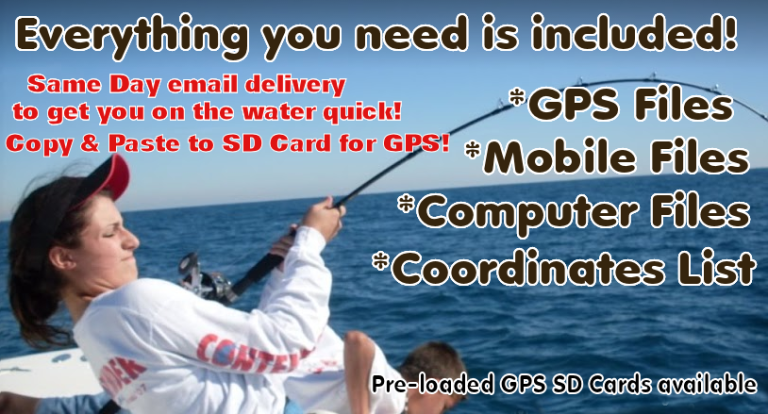 ---
GPS Files included!

-  Does your boats GPS accept an SD or Micro-SD Card? This product is a lifesaver! We send GPS files with any purchased area to match your GPS make and model. Simply copy and paste our file to a blank SD card using a computer and load all our fishing spots to your GPS at once. After uploaded to your GPS, all coordinates and their names will show on your GPS Map and in your waypoints list on your GPS.  - All our Gulf fishing spots uploads work with an SD Card on Garmin, Humminbird, Raymarine, Lowrance and Simrad GPS models that accept SD cards. If you're not sure about your GPS compatbility, email us your GPS make and model to gpsfishingmaps@gmail.com NOTE: Pre-loaded SD cards for your GPS are available! See preloaded SD Card info here! 
Mobile Files Included! Use your Computer or Mobile devices to see your Fishing Maps and Fishing Spots. Use your mobile device as a secondary Fishing GPS  or for trip planning on the water and off the water with our included Google Earth files! Enjoy the use of seamless NOAA nautical chart and fishing map imagery built in! This included file works with Google Earth and other GPS apps we recommend after purchase. Loads right from your email to your computer or your Mobile Devices! Your new fishing spots will be usable, viewable and editable on most any device that uses Google Earth or various GPS apps that support Google Earth files.
View comments on your fishing Spots – Many of our fishing spots have comments from our guides which might mention  something about that spot.. Sometimes maybe what type of bottom you can expect, possibly fish, or some other clue about that spot. Spot details depend much on the guide providing them. Much of this comment info transfers to your GPS comment section (depending on how your GPS accepts comments) and ALL comments are shown with a simple click or "tap" on the fish head icons when using any of the included Google earth Files on most devices and computers for trip planning! Cool deal, now that's easy!
Matching GPS Coordinates List for viewing or printing your GPS Lat/Long Fishing Coordinates, These printable and viewable GPS Coordinates are label matched and can be entered into most any GPS in the world, if ever needed. Print this and take it with you on the boat, or save the file for safe-keeping in case you ever need it for reference or you find the need for using the lat/long GPS Coordinates for your purchased Gulf Fishing Map.
Gulf Fishing and Rigging Tutorials for nearshore and offshore fishing the Gulf Coast and Oil Rig Fishing in general. Our guides have come together to compile excellent short tutorials (for those who need them) to include tips on rigging for offshore bottom fishing, rigging and trolling off in Gulf of Mexico.
All the above mentioned files are included with any area available for purchase. These files are conveniently emailed the same day of purchase to get you on the water immediately. Note: For you convenience, these files are sent in 4-5 attachments with your GPS files found inside a ZIP file for easy handling. The days of paper maps are history my fellow fishermen! ---- FISH ON!
Questions? Email us anytime - gpsfishingmaps@gmail.com or use the contact form found here