Alabama Offshore Fishing Spots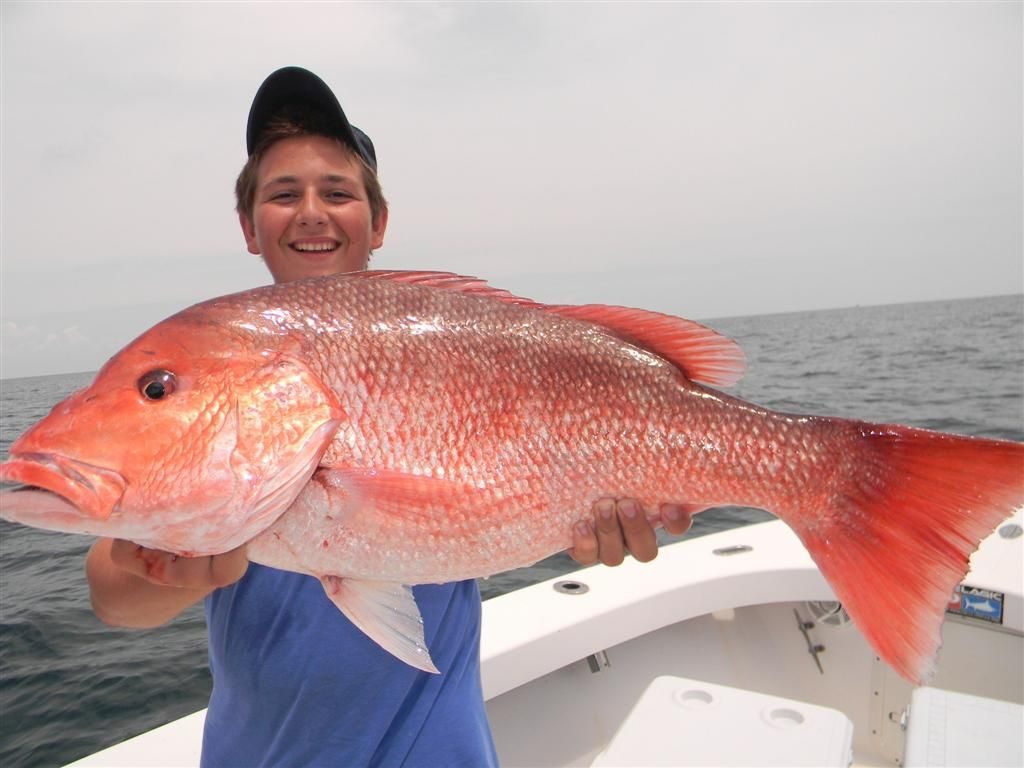 Alabama fishing spots and GPS Coordinates for fishing in the Gulf. Fish the offshore waters of the Alabama Gulf coast with over 1200 top fishing spots and Alabama Offshore reefs, wrecks, rock piles, ledges and live natural bottom fishing spots for trolling and bottom fishing for a variety of fish. Our guides have compiled and organized the best Alabama fishing locations from Gulf Shores, Mobile, Orange Beach, Dauphin Island and Bon Secour Alabama. All of our fishing spots work with the top brand GPS brands including Garmin, Lowrance, Simrad, Humminbird, Raymarine and Furuno TZ Touch models that accept an SD card. These fishing spots also work with most mobile devices and all computers using our simple GPS and mobile Google Earth files, all emailed to you the same day of purchase. Our included mobile and computer fishing maps for trip planning come with detailed seamless NOAA nautcial charts built in! See all our Alabama fishing spots with detailed NOAA nautical charts for your mobile devices and computers.
Our Product in a nutshell. We offer fishermen an orgainzed, comprehensive and complete Alabama fishing spots and fishing map at your fingertips. Whether you're on the water, on the road or at work and home, you will appreciate having all the Alabama Offshore Reefs and top fishing spots, all in one place for your GPS, mobile and computer devices! Our GPS product provides exactly that! See how it works and what's included
Alabama Fishing Spots for Bottom Fishing and Trolling
Use our Gulf coast fishing spots for Grouper, Snapper, Cobia, Mahi, Kingfish, Wahoo, Tuna and much more off the coast of Alabama. We offer top fishing spots and hot spots for offshore fishing in the Gulf of Mexico. Each fishing location is added for productive trolling, drifting and bottom fishing. Types of fishing spots in the Gulf include hard bottom, limestone bottom, natural bottom, limestone ledges, rips, Wrecks, various structure, offshore reefs and more. No more typing in GPS coordinates!
Fishing Spots for GPS - No complicated GPS software is required. All of our Gulf fishing spots load directly to your boats GPS using our included "copy and paste" GPS files and an SD card. This included file will transfer all your new fishing spots to your GPS with a few clicks with a computer and a blank card 32 GB or less. These included GPS files are emailed to you the same day of purchase.

Pre-loaded GPS SD cards available! Load these spots to your own SD card or have these fishing spots loaded to an SD card for your GPS and mailed to your front door!
Fishing Map for Mobile Devices - Or, use our Alabama Fishing Map for mobile on your phone for viewing, trip planning or secondary navigation using the built in NOAA fishing charts in our Google Earth file! This included Google Earth file works with most devices and several GPS apps for android, IOS and all computers. All files are conveniently emailed to you the same day of purchase to get you on the water today! See details on what any purchase comes with and see how it works here 

Load up your spots! Never manually enter GPS Coordinates again using our GPS fishing spots files included with any purchase! Below, see our Alabama fishing spots loaded to a GPS using our "copy and paste" GPS file and a simple SD Card. Views vary depending on your GPS built in map. Works with Garmin, Lowrance, Humminbird, Raymarine, Simrad and Furuno TZ touch GPS models with SD card slot. How does this work?
The Alabama fishing spots map is shown below on a mobile device using our included Google Earth file with built in seamless NOAA  nautical fishing charts for Alabama. Chart and nautical detail increases when zoomed. Use this file included with your Computers and some mobile devices as well. Use with GPS apps we recommend after purchase for Android and IOS that allows this file to open with many mobile devices.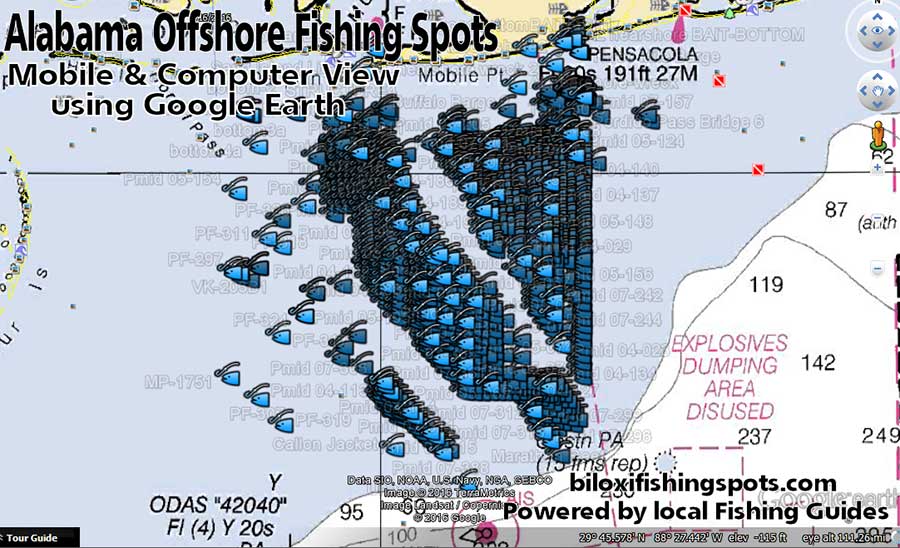 Purchase our Alabama Fishing Spots
for only $99.99!
GPS Fishing Maps is a 14 year verified, 5-star merchant offering fishing spots maps in (9) coastal States. All Fishing Spots Files and upload instructions are emailed to you the same day of purchase to get you on the water fast! If you would rather place your order on the phone, feel free to request a call by email anytime: gpsfishingmaps@gmail.com or See full info on what comes with it and how it works here